Umbrella a Cappella is a mixed-voice choir of 30-40 people
'Umbrella' is an indication of our wide-ranging, ever-changing repertoire
'a cappella' is the standard term for singing without any accompaniment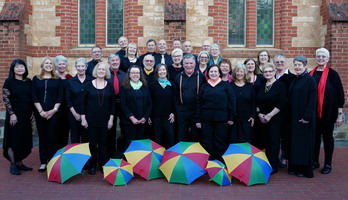 The choir's basic repertoire has been built with traditional folk-songs, (Australian, British Isles, Celtic and "gifts" from other cultures in their original language), medieval and Renaissance part songs (mainly secular), and popular songs from all eras. The unique collection ranges from the very well known to the very rare, and from the profound and serious to the quaint, comic, curious and ,from time to time, the very silly.
To this we have added a concert's worth of Swing Era pieces in new a cappella arrangements, an eclectic collection of songs about animals, some small choir gems by "classical" composers, a cappella arrangements of choruses from operas, some masterpieces of church music, Victoriana and Music Hall, works by contemporary Australian composers and a sprinkling of 20th Century pop, jazz and blues.
We usually present two major concerts per year, and enjoy being guest performers at other events.
In the past we have sung at Folk, Cornish and Celtic Festivals, Medieval Fairs, Christmas Carol events, Australia Days (Citizenship Ceremonies and/or community concerts), Spring and Autumn Fairs, animal songs at the Zoo, a couple of weddings, and "busked" at markets.
Led by professional singing teacher and coach, conductor, expert arranger and song-writer Lyndon Piddington, we enjoy the challenges and rewards of singing together in a group of friendly, like-minded people.